Identity Smart Contracts on Ethereum
From IIW
Identity Smart Contracts on Ethereum

Wednesday 5B
Convener: Christian Lundkvist
Notes-taker(s): Ed Eykholt

Discussion notes, key understandings, outstanding questions, observations, and, if appropriate to this discussion: action items, next steps:

Christian Lundkvist - Uport / Consensys from the uPort team presented their smart contract designs similar to as documented in their whitepaper http://whitepaper.uport.me/
Smart Contracts in Uport

Use smart contract to…
Map DID to a DID Document (contains PubKey)
Provide a persistent Identity for interactions with other Ethereum contracts

Proxy Contract

Tiny contract
Act as a level of indirection
Has an "owner" address

Can forward transactions from the owner.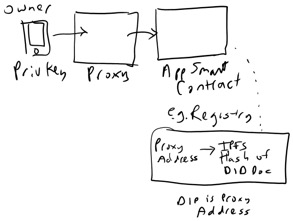 Discussions:
What about Key Revocation (e.g. for a key that was compromised at some as-of date)?
In the case of a revocation, should previous signed verifiable claims still be interpreted as valid?
This is an argument for keeping dates in the DDO specification.
On the blockchain, how is time reliably recorded? Could use a secure timestamping services like Tieron or OpenTimestamps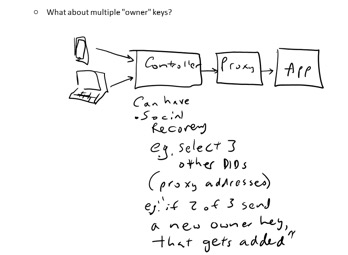 Main drawback of this design is privacy. Can see the delegates
Another approach would be Shamir's Secret Sharing Scheme, which would not be visible on the blockchain. Another approach might be the "Horcrux protocol".
Friction of this approach on Ethereum:

Signing a transaction on a device (e.g. to a controller contract) requires paying a fee in ETH to run the network.
Could instead have the user create a signature with a key, but have a service that gets that signed transaction, pays the fee, and broadcasts the transaction to the Ethereum network.

It is now on the Ethereum roadmap to add an Account Abstraction feature, the access control logic can be handled by the smart contract (and a minor can decide whether to mine that transaction). EIP 86 https://github.com/ethereum/EIPs/issues/86, potentially to be included in the second Metropolis release.

Risks:

There could be taint of one transaction with another. For example, if there is a verifiable claim "I'm over 21" can it be found out how much ETH I own?

Christian wrote a blog post on how to simplify multisig contracts.