DID Ledger Lightening Talks
From IIW
DID Ledger Lightening Talks

Wednesday 2D
Convener: Manu Sporny
Notes-taker(s): Manu Sporny & Anastasia Miron
Discussion notes, key understandings, outstanding questions, observations, and, if appropriate to this discussion: action items, next steps:
Slides: Veres One: 
https://drive.google.com/open?id=1TpAGXvSZH-JRMQLw7KyGmWO4TuBFl_CVk3msMKzXFs
Veres One[edit]
A Globally Interoperable Blockchain for Identity
IIW XXVI - April 3rd-5th 2018
Vision[edit]
A world where people and organizations create, own, and control their identifiers and their identity data
Fit for Purpose[edit]
Veres One is a fit-for-purpose blockchain optimized for identity.
It is public and permissionless
Veres One is FAST[edit]
Fastest DID Ledger
DID Creation
Bitcoin - create: 0.6M / day - consensus delay: ~3,600 seconds
Ethereum - create: 2.1M / day - consensus delay: ~375 seconds
Veres One- create: 18M / day - consensus delay: ~30 seconds
Did NOT do an ICO[edit]
Veres One does not use a token and will not do an Initial Coin Offering (ICO).
ICOs Create Volatility and Network Debt
Veres One is Cost Effective[edit]
Bitcoin - ~$15-$73 per DID
Ethereum - ~$4-$14 per DID
Veres One - ~$1-$2 per DID
Fee-based revenue models ensure long term operation of the network
Commodity prices guaranteed due to strong downward pressure on operational costs
Roadmap[edit]
Beta (Oct 2017) Release Candidate (Feb 2018-today) Production (June 2018) Production Customers (Oct 2018)
Questions[edit]
Any questions related to Veres One or the larger ecosystem?
Manu Sporny | CEO | Digital Bazaar
Co-Inventor of Verifiable Credential & Decentralized Identifier Technology
Co-Inventor of JSON-LD
Co-Founder of Veres One
10+ Years in Web Standards
Customers in Finance, Government, Education, and Healthcare
Email: msporny@digitalbazaar.com
Twitter: @manusporny
https://www.linkedin.com/in/manusporny/
Photo's by Anistasia Miron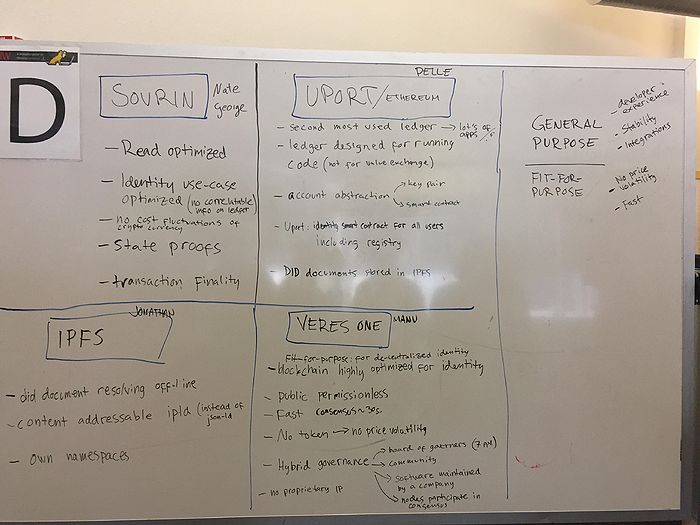 Also the second day, all 4presenters from 4different DIDs sat down and discuss what works how and all the other details. It was amazing to see it!!